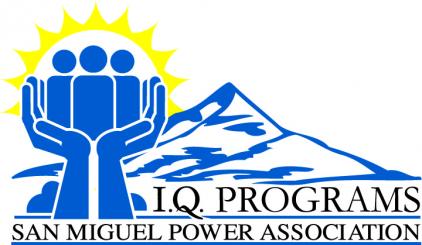 San Miguel Power Association (SMPA) is one of five western slope cooperatives partnering with the Colorado Energy Office and Grid Colorado to expand community solar access to hard-working families throughout the state.  SMPA's participation in this pilot program will not only allow consumers' access to community solar and the benefits it brings, it will also enhance SMPA's free home efficiency program, known as the SMPA I.Q. Weatherization Program.  Together, these income-qualified or "I.Q." Programs will offer an unprecedented level of assistance to families struggling to pay their bills.  To apply for assistance through these programs, begin at the EcoAction Partners website.
---
Assistance from the I.Q. Programs goes through two main stages: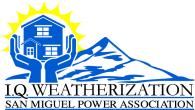 First, a member's home undergoes an energy audit and measures are taken to improve the efficiency of the home's energy use.  A well-insulated, tightly-sealed home with energy-efficient appliances is cheaper, safer, and more comfortable to rent or own than its leaky counterpart.  These improvements are made at no cost to the consumer, and the savings they see immediately reduce their monthly bills.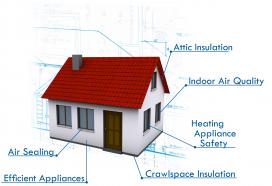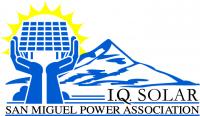 Next, the member is granted a subscription on SMPA's 200-kilowatt Community Solar Array in Norwood, Colorado.  Subscriptions will allow access to a maximum of 2 kilowatts of generation per participant and will last five years after which participants may re-apply.  This program will provide convenient access to solar power for income-qualified members, allowing them to save money by tapping into an abundant, local, renewable resource.  Best of all, this opportunity is also offered at no cost to the member.
IQ Solar program enrollment has ended. Stay tuned for news about SMPA's next IQ Solar Community Solar array.
---
Neighbors helping neighbors is one of the fundamental principles of a cooperative system.  So it's only natural that SMPA, a local electric cooperative, would offer programs providing home weatherization and solar power services to those in need. SMPA is excited to launch these programs, but it could not have done it alone.  SMPA has partnered with Energy Outreach Colorado, the Colorado Energy Office, Grid Alternatives, The Telluride Foundation and EcoAction Partners.  We thank these partners for helping to make the I.Q. Weatherization and I.Q. Solar programs possible.