What is Net Metering?
Net Metering is a system in which solar panels or other renewable energy generators are installed at a home or business and then connected to a public-utility power grid through a meter that reads electricity flow in two directions. Power from the generator can allow customers to offset the cost of power drawn from the utility.
SMPA supports members who wish to install these systems on their buildings, and can offer insight and practical advice throughout the process.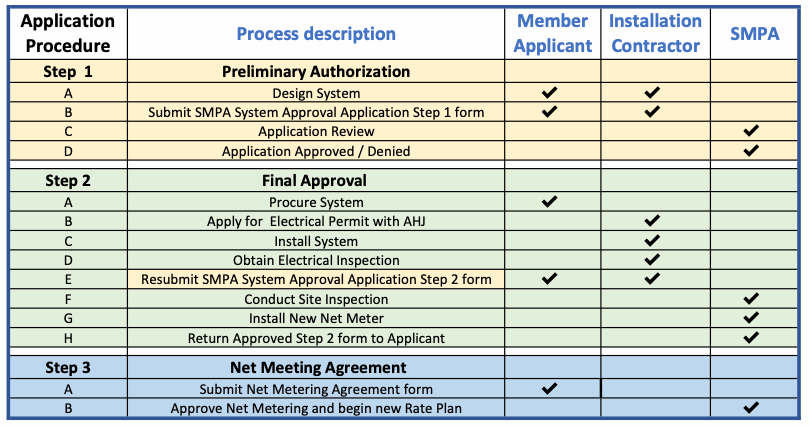 ---
Additional information on net metering:
Call Before You Sign!  Be Wary of Solar Scams.
With the increased focus on renewable energy nationwide, attention on solar has grown.  Be wary of too-good-to-be-true offers from solar salespeople and consider the following before signing any contracts:
High-pressure sales tactics: Solar scammers often use high-pressure sales tactics to pressure you into signing a contract. They may try to make you feel like you're missing out on a great deal or that you'll regret not signing now. If you feel pressured, it's best to walk away.
Unrealistic promises: Solar scammers often make unrealistic promises about how much money you can save with solar panels. They may say that you'll be able to eliminate your electric bill entirely or that you'll make a lot of money by selling your excess solar power back to the grid. It's important to do your research and understand the true costs and benefits of solar before you sign any contracts.
Hidden fees: Solar scammers often hide hidden fees in their contracts. These fees can add up quickly and make your solar installation much more expensive than you expected. Be sure to read the contract carefully and ask about any fees that you don't understand.
Unlicensed or unqualified contractors: Solar scammers are often unlicensed or unqualified contractors. This means that they may not be properly insured or that they may not have the experience or expertise to install solar panels properly. Make sure to check the contractor's credentials before you hire them.
If you're considering solar, it's important to do your research and be aware of the potential for scams. Here are some tips to help you avoid solar scams:
Contact SMPA. We have worked with hundreds of SMPA members who have successfully adopted solar, and we can help walk you through the policy requirements for net metering.
Get multiple quotes from different solar companies.
Read the contract carefully and ask about any fees that you don't understand.
Make sure the contractor is licensed and qualified.
Check the company's reputation online.
Don't feel pressured into signing a contract right away.
If you think you've been the victim of a solar scam, there are resources that can help. The Colorado Solar and Storage Association (COSSA) is a trade association that represents the solar industry in Colorado. Visit their website for more information.