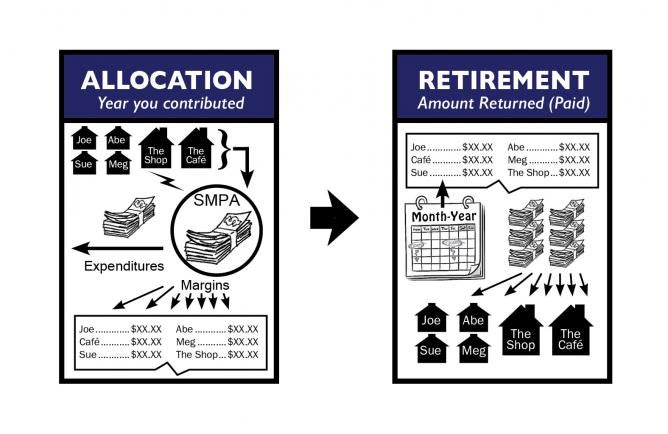 As a cooperative, San Miguel Power Association (SMPA) is owned by its members, and member dividends, also known as "capital credits", reflect each member's ownership in the cooperative.
In a typical year, SMPA tries to collect slightly more than enough revenue to cover its expenses. The excess revenue, called "margins" is allocated to each consumer in proportion to their contributions for that year.  For a period of time, this capital can be used by the cooperative to finance operations and construction.  This helps keep rates at an affordable level by reducing the amount of funds that must be borrowed to maintain and enhance SMPA's existing electric system. When the Board determines the time is right, allocations for a given year or combination of years are cashed out as "Member Dividends" and returned to the members. 
Member Dividends Frequently Asked Questions
Member dividend checks expire ninety days after they are issued.  However, members may still request that a check be re-issued within six months of the retirement. The most recent member dividend retirement took place in December, 2020. 
Member dividends can be paid back to the legal representative(s) of your family member's estate. In order to claim them, an affidavit is required to be completed, notarized, and returned in addition to a copy of the death certificate and personal representative appointment documentation, if one was appointed. Please click here to download affidavit.
Member Dividends that are claimed early due to the death of a family member are returned at a discounted rate.
Check to see if your bank will cash the check first.  If the member dividend check is less than $100 an Affidavit Regarding Dissolution of Entity may be used to have SMPA reissue the check in a different name.  Please click here to download affidavit.  For checks greater than $100, please contact us.
2022 Unclaimed Member Dividends
SAN MIGUEL POWER ASSOCIATION, INC.
NOTICE OF MEMBER DIVIDENDS RETIREMENT
NOTICE OF RIGHT TO CLAIM MEMBER DIVIDENDS (CAPITAL CREDITS)
In January, 2023, the co-op sent out nearly $1 million in unclaimed Member Dividend checks to members who received electric service during the year, 1993.
Credits that remain unclaimed or un-cashed as of June 30, 2023 will be forfeited by the member and extinguished and forever barred.
Member Dividends are a benefit of being a member of your local electric cooperative. Please call 1-877-864-7311 with questions.